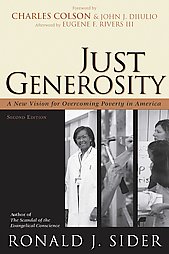 So I'm going to go ahead and continue a series on poverty that I started before my hiatus. I have been reading the book pictured to the left. For more about this book, click the previous month archive link on the right, where you can find previous posts.
What I want to do in this post is simply post some of the biblical texts dealing with poverty. This is not an exhaustive list, just some selected texts. What is better is to do a word study on "poor" and other similar words. One way to get started is by clicking
here
.

Where you will see the word "poor" appears in the Bible a mere 173 times, and that doesn't include other similar words like, poverty, justice, and rich.
Selected texts.
Exo 23
2 "Do not follow the crowd in doing wrong. When you give testimony in a lawsuit, do not pervert justice by siding with the crowd, 3 and do not show favoritism to a poor man in his lawsuit.
6
"Do not deny justice to your poor people in their lawsuits. 7 Have nothing to do with a false charge and do not put an innocent or honest person to death, for I will not acquit the guilty.
8
"Do not accept a bribe, for a bribe blinds those who see and twists the words of the righteous.
9
"Do not oppress an alien; you yourselves know how it feels to be aliens, because you were aliens in
Egypt
.
Lev 23:22 When you reap the harvest of your land, do not reap to the very edges of your field or gather the gleanings of your harvest. Leave them for the poor and the alien. I am the LORD your God.
Lev 25:35 If one of your countrymen becomes poor and is unable to support himself among you, help him as you would an alien or a temporary resident, so he can continue to live among you.
Deu 15:7 If there is a poor man among your brothers in any of the towns of the land that the LORD your God is giving you, do not be hardhearted or tightfisted toward your poor brother.
1 Sam 2:8 He raises the poor from the dust and lifts the needy from the ash heap; he seats them with princes and has them inherit a throne of honor.
Ps 82:3 Defend the cause of the weak and fatherless; maintain the rights of the poor and oppressed.
Prov 10:4 Lazy hands make a man poor, but diligent hands bring wealth.
Prov 13:7,8 One man pretends to be rich, yet has nothing; another pretends to be poor, yet has great wealth. A man's riches may ransom his life, but a poor man hears no threat.
Prov 17:5 He who mocks the poor shows contempt for their Maker; whoever gloats over disaster will not go unpunished.
Prov 19:17 He who is kind to the poor lends to the LORD, and he will reward him for what he has done.
Prov 21:13,17 If a man shuts his ears to the cry of the poor, he too will cry out and not be answered. He who loves pleasure will become poor; whoever loves wine and oil will never be rich.
Isa 9
1 Woe to those who make unjust laws,
to those who issue oppressive decrees,
2 to deprive the poor of their rights
and withhold justice from the oppressed of my people,
making widows their prey
and robbing the fatherless.
3 What will you do on the day of reckoning,
when disaster comes from afar?
To whom will you run for help?
Where will you leave your riches?
Isa 41:17 The poor and needy search for water, but there is none; their tongues are parched with thirst. But I the LORD will answer them; I, the God of Israel, will not forsake them.
Mat 19:21 Jesus answered, "If you want to be perfect, go, sell your possessions and give to the poor, and you will have treasure in heaven. Then come, follow me."
Mark 12 41Jesus sat down opposite the place where the offerings were put and watched the crowd putting their money into the temple treasury. Many rich people threw in large amounts. 42But a poor widow came and put in two very small copper coins,[j]worth only a fraction of a penny.[k] 43Calling his disciples to him, Jesus said, "I tell you the truth, this poor widow has put more into the treasury than all the others. 44They all gave out of their wealth; but she, out of her poverty, put in everything—all she had to live on."
(Why did Jesus come to earth?)
Luke 4
16
He went to
Nazareth
, where he had been brought up, and on the Sabbath day he went into the synagogue, as was his custom. And he stood up to read.
17
The scroll of the prophet Isaiah was handed to him. Unrolling it, he found the place where it is written:
18"The Spirit of the Lord is on me,
because he has anointed me
to preach good news to the poor.
He has sent me to proclaim freedom for the prisoners
and recovery of sight for the blind,
to release the oppressed,
19to proclaim the year of the Lord's favor."[e]
20Then he rolled up the scroll, gave it back to the attendant and sat down. The eyes of everyone in the synagogue were fastened on him, 21and he began by saying to them, "Today this scripture is fulfilled in your hearing."
Luke 14:21

"The servant came back and reported this to his master. Then the owner of the house became angry and ordered his servant, 'Go out quickly into the streets and alleys of the town and bring in the

poor

, the crippled, the blind and the lame.


1 Cor 13:3 If I give all I possess to the poor and surrender my body to the flames, [ Some early manuscripts body that I may boast] but have not love, I gain nothing.
2 Cor 6:10 sorrowful, yet always rejoicing; poor, yet making many rich; having nothing, and yet possessing everything.
2 Cor 8:9 For you know the grace of our Lord Jesus Christ, that though he was rich, yet for your sakes he became poor, so that you through his poverty might become rich.
James 2
14
What good is it, my brothers, if a man claims to have faith but has no deeds? Can such faith save him?
15
Suppose a brother or sister is without clothes and daily food.
16
If one of you says to him, "Go, I wish you well; keep warm and well fed," but does nothing about his physical needs, what good is it?
17
In the same way, faith by itself, if it is not accompanied by action, is dead.
Rev 3:17 You say, 'I am rich; I have acquired wealth and do not need a thing.' But you do not realize that you are wretched, pitiful, poor, blind and naked.